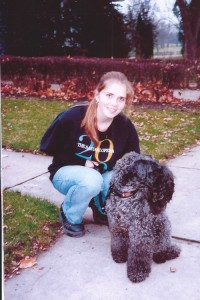 Ares passed away December 18, 2012 at the Quarry Hill Animal Hospital in Rochester, MN after valiantly resisting old age. Kris, Harper, and I were with him, along with Dr. Anderson and the amazingly compassionate staff there.
He came to us in 2001 from a kennel in Dayton, Ohio. Kris and I drove 650 miles to meet him. When the door opened and we stepped inside, Ares ran straight to Kris as if he had been waiting for her. He has been with us ever since.
Ares was originally from a breeder in the Czech Republic. The Ohio breeder bought him and then soon, rejected him as a show dog because his ears didn't stand up acceptably. Knowing Ares's personality, I don't think this was a great disappointment to him. During his 11 ½ years with us he tended to be quiet and gentle. He didn't care for car rides or being around people he didn't know. I doubt he was cut out to be a show dog.