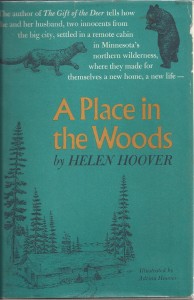 For years, three books by Helen Hoover have sat on my bookshelves next to volumes written by Sigurd Olson. The books by Olson are tattered and dog-eared. I had not even opened Hoover's books until this summer.
On my way to the Grand Marais area in July, I decided to take along The Gift of the Deer, Hoover's narrative describing a white-tailed buck who came into their yard starving. A few pages into it and I was hooked.
Helen and her husband, Adrian, rather impulsively moved into a rustic cabin along the Gunflint Trail in the 1950's, leaving their lives and careers in Chicago behind. While they admired the region on several trips, they were ill-prepared to live year-round in a remote area well before conveniences like electricity were available.
Helen was a metallurgist and Adrian was a commercial art director before their move. After the move, they spent nearly full-time conducting daily tasks to survive while immersing themselves in the sights and experiences of the northwoods. Their previous education and work experience did not fully prepare them to convert sheds into chicken coops or fend off bears. Helen mistook a jar left in the cabin they bought for enough flour to make many loaves of bread. It was actually cornstarch. Fortunately, the grocer in Grand Marais, fifty miles away, sent them the barrel of flour he knew they would need to get through the winter, and Helen quickly learned to bake bread.
The Gift of the Deer is a touching description of their journey restoring the buck's health and watching him and subsequent generations of his family.
Next, I read A Place in the Woods, which describes their first year. If you ever wondered what it would be like to live off the grid 1950s style in Northern Minnesota, Hoover's book will enlighten and entertain you. Their resilience and ability to improvise is impressive. While she occasionally catches herself slipping into anthropomorphism and teleology, and I would argue she sometimes becomes a bit sentimental, she is a keen observer.
Reading Hoover's books have reminded me how to observe closely. Even a common mouse looks different to me now.  She also provides a domestic perspective that I have not found in Sigurd Olson's books or many other northwoods descriptions. In addition, she provides an environmentalist's perspective, including a warning against DDT at the same time Rachel Carson was writing Silent Spring.
Fortunately, several of Hoover's books are still in print through the University of Minnesota Press, including her children's book The Great Wolf and the Good Woodsman, which is illustrated by Betsy Bowen. And if you are in the area, Chik-Wauk Museum and Nature Center, located at the end of the Gunflint Trail, has an interesting exhibit on the Hoovers.